Thomas Township's Roethke Pool
The Roethke Park pool is an outdoor pool located at Roethke Park in Thomas Township.  The max capacity for the pool is 75 swimmers.  The pool has a shallow end and a deep end with a depth of 9 ft.  There is no diving allowed in any part of the pool.  No food is allowed on the deck of the pool as well.  There are picnic tables and pavilions to eat outside the pool area.  The pool is staffed with life guards at all times.
Thomas Township Parks and Recreation also teaches swim lessons.  The lifeguards on staff are certified through Swim Lessons University and teach levels 1, 2 and 3. If you would like to register for swim lessons sign up in our office at 249 N. Miller Road Saginaw, MI 48609 as class sizes are limited.
Click Here for a registration form.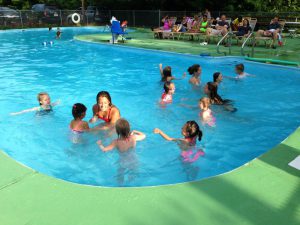 Below is this years pool flyer.