The following is a list of the people who have won the highest award given within our department. This award is given annually and is voted on by their peers.
2020 Firefighter of the year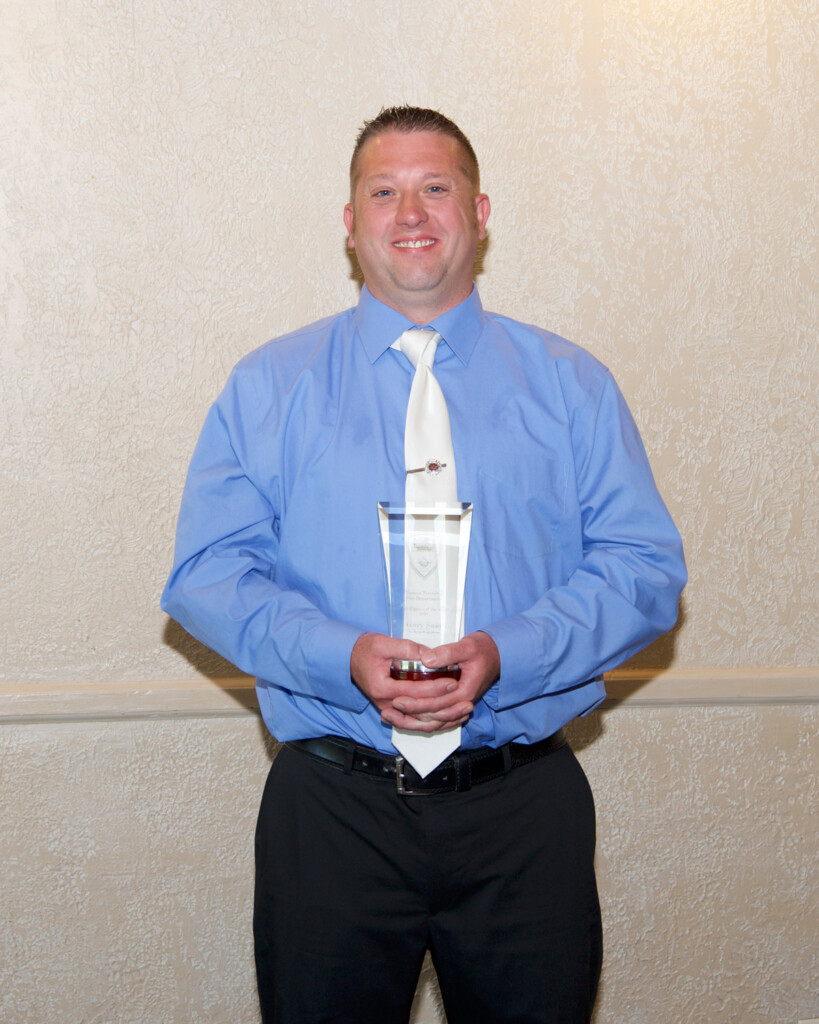 Gary Salo, at left, is the Thomas Township 2020 Firefighter of the year. Chief Michael Cousins presented the award June 13, 2021. Salo has served with the department since 2010 and is a Crew Leader and an Emergency Medical Technician.
The members of the fire department select the recipient.
PAST FIREFIGHTERS OF THE YEAR
| | | | |
| --- | --- | --- | --- |
| | | | 2019 – Nate Wachowicz |
| 2018 – Jim Grove | 2017 – Anthony Martin | 2016 – Casey Cichowski | 2015 – Nick Chad |
| 2014 – SO Drake Parent | 2013 – Jean Harken – Medical Responder | 2012 – Tom Arn | 2011 – John Giacoletti |
| 2010 – Lt. Brandon Rossi | 2009 – Mike Fabish | 2008 – Lt. Ryan Ludwick | 2007 – Gary Fuller |
| 2006 – Lt. Joe Giacoletti | 2005 – Lt. Jason Grandy | 2004 – Lt. Pete Stevens | 2003 – Brian Leach |
| 2002 – Joshua Mosher | 2001 – Matthew Hooverman | 2000 – Capt. Dave Sommers | 1999 – Craig Simon |
| 1998 – Lt. Matthew Benkert | 1997 – Gary Fuller | 1996 – Warren Wyatt | 1995 – Capt. Tom Ruth |
| 1994 – Al Kindel | 1993 – Don Ludwick | 1992 – Asst. Chief Michael Cousins | 1991 – Jeff Webster & Lt. Keith Sanford |
| 1990 – Ed Kragenbrink | 1989 – Asst. Chief Jim Peterson | 1988 – Doug Engel | 1987 – Thomas Aspin |
| 1986 – Peter Krok | 1985 – Dennis McMahan | 1984 – Roland Marshall | 1983 – Clarence Schultz |
| 1982 – Lyle Cousins | 1981 – Chief Ken Gauze | 1980 – Gary Muter | 1979 – David Kabobel |
| 1978 – Almarion Sumption | 1977 – Robert Steele | 1976 – Gerald Knoll | 1975 – George Schmidt |
| 1974 – Richard Borm | 1973 – Ralph Bowden | 1972 – Charles Chantiny | 1971 – Duwayne Stockwell |