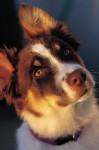 How much does a dog license cost? 
Spayed/Neutered dog = $12.00
Unsexed dog = $25.00
Spayed/Neutered dog of owner age 60 or older = $5.00
Unsexed dog of owner age 60 or older = $25.00 
---
What is required to purchase a dog license?
We require proof of the rabies vaccination and proof that the dog has been spayed or neutered.
---
What type of payment is acceptable for a dog license?
We accept cash, check, or money order.  All checks and money orders should be payable to Thomas Township Treasurer.
---
When am I able to purchase a dog license from the Township?
Between December 1 and the last business day of February.
---
At what age does my dog need a license?
At four (4) months of age.
---
When I move to Saginaw County from another county, what happens to my current license?
If a dog owner lives in another county and has a current license form and/or tag from that county (proof required, with rabies current), the owner can obtain a "courtesy" tag.  A blank form will be filled out at the Treasurer's office or participating veterinarians at no charge.
---
Do you have any information on microchip implantation or tattoo identification for my pet?
A microchip implantation and registration may be obtained through any license veterinarian.  Individuals interested in having their dog tattooed should contact Tina Moreno at (517) 241-2748 to locate an individual approved by the department to tattoo dogs in their area.
---
Am I able to buy a replacement dog license?
When a dog owner purchases a current dog license and loses that current dog license, that dog owner can purchase another current dog license for $5.00, and sign a printed affidavit that states the loss of the current dog license at the Saginaw County Treasurer at 111 South Michigan Ave, Saginaw MI 48602.