Trash pick-up for the week of February 18th is on time. The President's Day holiday does not change the date of pick-up. Trash and recyclables will be picked up on Friday, February 22nd.
There is no better place to live, work, worship, attend school or play than Saginaw County. Click on the link to the video which illustrates the advantages and beauty of living in Saginaw County. We are proud to be a part of such a wonderful county.
The 2019 March Board of Review dates for Thomas Township will be as follows:
March 5, 2019 beginning at 10:00 a.m. at the Thomas Township Office, 249 North Miller Road, Saginaw, Michigan. Organizational Meeting Only-No Appeals heard.
March 11, 2019 from 2 p.m. until 5 p.m. and 6 p.m. until 9 p.m. at the Thomas Township Public Safety Building, 8215 Shields Drive, Saginaw, Michigan
March 12, 2019 from 9 a.m. until noon and 1 p.m. until 4 p.m. at the Thomas Township Public Safety Building, 8215 Shields Drive, Saginaw, Michigan
To schedule an appointment for the Board of Review, please contact the Assessor's Office at (989) 781-0150.
Assistant Fire Chief Lyle Cousins, right, was honored on his retirement by the Thomas Township Board for his 50 years of service to the township.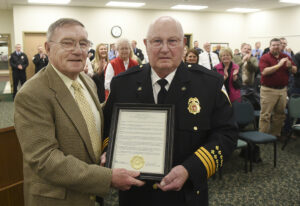 Supervisor Bob Weise, left, presented a proclamation to Lyle at the February 4 Board meeting. In addition to his family he was also honored by members of the fire department.
During his 50 years Lyle served as a firefighter, Lieutenant, Captain, Assistant Chief and Interim Fire Chief. In addition he was the departments Training Officer for many years.
Lyle served as President of the Saginaw County Firefighters Association and was a State Certified Fire Instructor.
I part the resolution read "The Thomas Township Board of Trustees, along with the Township Manager and Fire Chief, do hereby express their deepest appreciation to Mr. Lyle Cousins for the past 50 years of active, dedicated service rendered to Thomas Township and its residents."
The Thomas Township Office will be closed on Monday, February 18th, 2019 in observance of President's Day. The office will reopen at 8:00 a.m. on Tuesday, February 19th, 2019.
**Trash pick-up will be on Friday, February 22nd, 2019**
The Thomas Township Firefighters Association is offering up to three $1,000 scholarships.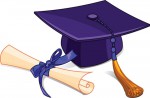 Any high school graduate or G.E.D. equivalent who resides within Thomas Township is eligible to apply. The recipient must be pursuing or planning to pursue undergraduate, graduate, or job skills at an accredited university, college or a recognized trade school.
For complete information goto www.thomastwp.org/departments-services/fire-department/scholarship-information/
Our official application must be submitted.
Applications must be received by the Thomas Township Fire Department by the close of business, April 26, 2019 for consideration.
The 2019 Trash & Treasure Rummage Sales will be held on June 15th and 16th, 2019! To register your sale please click here and you will be taken to the registration form!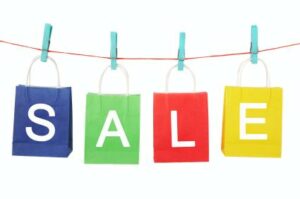 Brush Drop Off Dates for 2019 are as follows:
April 2019 – 6, 13, 20, 27
May 2019 – 4, 18
June 2019 – 1, 15, 29
July 2019 – 13, 27
August 2019 – 10, 24
September 2019 – 7, 21
October 2019 – 5, 12, 19, 26
Brush may be taken by the homeowner to the Township brush drop off site located at the northwest corner of Gleaner and Frost Roads. No stumps, leaves, grass or commercial brush will be accepted. The site will be open from 8 a.m. to 12 p.m.
This Month's Current Featured Business:
Thomas Fuel & More (Marathon)!
Please click here to view the full article with business information,location, and times!
The purpose of the page is to familiarize the community with businesses that are located in Thomas Township and the services/products they offer. Each and every business located in Thomas Township has the opportunity to appear as our "Featured Business". There is no cost to the business to do so. If your business is interested in participating, please contact the Thomas Township Office at (989) 781-0150 or email operator@thomastwp.org.