The Thomas
Township family family orientated bike ride is scheduled for Saturday, May 13. This is the Saturday morning of Mother's Day weekend. It is a fun ride for all levels of bicyclists. The ride is 6, 20 and 48 miles with over half on paved trails. The longer ride includes paved rural roads. Riders may turn around at any location.
The ride starts between 8 am and 10 am at Roberts Park and follows mostly paved trails to St. Charles. For those with a bit more ambition the ride will continue on paved county roads to Oakley.
There will be light refreshments, water and restroom at the start and three trailheads along the route.
Entry fee is only $15 for individuals and $40 for the family. Moms will receive a carnation.
For safety – riders are encouraged to wear helmets and no ear buds.
Click for registration form and maps.
Registration for the 2017 Thomas Township Trash & Treasures Rummage Sales Event has begun!! Please click on the photo below to be taken to the registration form. The form will have to be printed and then filled out and returned to the Township Office via mail or email (listed on the registration form) or by calling (989) 781-0150.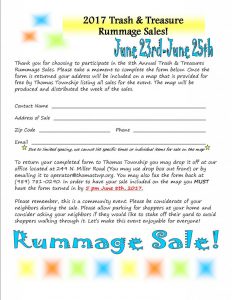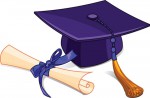 The Thomas Township Firefighters Association is offering three $1,000 scholarships to qualifying township residents.
Those eligible are any high school graduate or G.E.D. equivalent who resides within Thomas Township. The candidate must have earned a cumulative GPA of 3.0 or better.
The recipient must be pursuing or planning to pursue undergraduate, graduate, or job skills at an accredited university, college or a recognized trade school.
First consideration will be given to those entering an emergency services field.
The Thomas Township Firefighters Scholarship deadline is Friday, April 28, 2017.
All information submitted is confidential.
Click for complete information and application.
http://www.thomastwp.org/departments-services/fire-department/scholarship-information
The Thomas Township Police Department is pleased to announce that we have partnered with Officer Henry Reyna (Ret) of the Saginaw Township Police Department and current owner of his own business, "SecureCom" to produce a quarterly "Crime Prevention Newsletter." Officer Reyna is highly regarded in Michigan for his work as a crime prevention specialist.
We welcome Henry aboard and hope you will find these newsletters insightful and helpful. Comments and suggestions for future newsletters are welcome, just drop us a line at the police department.
C R I M E   P R E V E N T I O N   T I P S
Keep these tips in mind:
• Do not walk and text or use your phone. It is important to watch where you are going and be aware of your surroundings.
• Don't be distracted! If you are distracted; you won't see them coming!
• Don't leave packages in plain view in your vehicle. Put them in your trunk before you get to your next destination. If your vehicle doesn't have a trunk, cover them with a towel or blanket the same color as your interior.
• If you will not be home for deliveries, have your items delivered to a neighbor or to your office.
• Hold on to your money: Always carry your purse tucked tightly under your arm, or don't carry one at all. Put your money and only necessary cards in your front pants pocket where it is harder for a bad guy to get at it.
• Don't park in secluded or dark areas of the parking lot. Always have your keys out and ready.
• Try not to be the last to leave the store. Leave when the stores are still open and there are plenty of other shoppers in the parking lot.
• Don't be afraid to ask for a security escort to your vehicle if you feel the parking lot is dangerous.
• Shopping with kids? Teach them to go to a store clerk or security guard if you get separated.
• When you are home, remember this home safety reminder: Approximately 50% of all burglars enter the house via unlocked or open doors and/or windows. Keep all doors, including your garage door, closed and locked.
WHEN YOU ARE OUT FOR THE EVENING:
• Turn on lights and a radio or TV so it looks and sounds like somebody is home.
• Lock doors and windows even if you leave for just a few minutes.
• Don't forget to set your alarm every time you leave.
GOING AWAY FOR VACATION? IS YOUR HOME READY? IMPORTANT REMINDER!
One of the first steps you can take is to fill out a Vacation House Check form at the police department. The Thomas Township Police Department will check your home while you're away.
• Get an automatic timer for the lights in your home.
• Have a trusted neighbor pick up any mail and newspapers from the driveway.
• This neighbor can also place your trash cans out and retrieve them on pickup days.
• Neighbors are a security defense and it never hurts to have extra trusted eyes on your home in your absence.
• Leave your house key only with a trusted person.
• Never under the doormat or on top of the front door sill. The fake hide-a-key rocks look fake, and thieves will look for them.
• Disappoint them and don't hide a key on your property.
• Leave a car in the Driveway
• This gives the appearance that someone is home.
• Or have a neighbor park in your driveway.
• Take your garage door opener out of the car and leave it inside your home
• Regardless of whose vehicle is in the driveway, leave nothing inside or in plain view.
Taking these steps before going on vacation, or a weekend holiday, will help you sleep better while you're away and lessen the chances that your return from paradise isn't a return to a nightmare.
Safe travels!
Drinking water quality has been the focus of the local and national news lately.  Though our drinking water customers are served by the Saginaw Water Treatment Plant, it is totally independent of the problematic water systems located elsewhere and enjoys reliable and safe drinking water because of the hard work of many dedicated professionals.  Highly trained and certified staff works around the clock to deliver your water each day, with hundreds of laboratory tests completed daily just to make sure that your drinking water meets or surpasses all federal and state requirements.
Under the federal Clean Water Act, each public water system is to provide its customers with a Water Quality Report each year.  The report shows specific water quality parameters and test results.  To view the 2015 Water Quality Report, please click the link.
Brush Drop Off Dates for 2017 are as follows:
April 2017 – 1, 8, 22, 29
May 2017 – 6, 20
June 2017 – 3, 17
July 2017 – 8, 15
August 2017 – 12, 26
September 2017 – 9, 23
October 2017 – 7, 14, 21, 28
Brush may be taken by the homeowner to the Township brush drop off site located at the northwest corner of Gleaner and Frost Roads. No stumps, leaves, grass or commercial brush will be accepted. The site will be open from 8 a.m. to 12 p.m.