Welcome to Day 2 of our Evening in the Park Virtual Fundraiser! We hope you enjoyed the video from Day 1 of Roberts Park as we are excited to announce that we are in the works of creating a Disc Golf Course at Roberts Park! We are near completion on the renovations of the Big Pavilion and we updated the volleyball court near the Soccer Fields adding a second court! The new sign at the entrance to Roberts Park looks great along with the newly planted Maple Trees along the Drive into the park!
Don't forget about the challenge from Hemlock Semi-Conductor to match donations of $5000! Every penny counts! Take a look at today's video and don't forget to donate!!!
If you would like to donate, click the link below to support Thomas Township Parks and Recreation!
https://www.paypal.com/biz/fund?id=MRHSC8D8D3HFS
If you would like to donate via cash or check you can also mail in your donation to 249 N. Miller Rd or stop in and hand deliver your donations as well!
Day 2
Enjoy todays video of Roethke Park and some of the projects we were able to complete this summer!
Click Here to support Thomas Township Parks and Recreation!
https://www.paypal.com/biz/fund?id=MRHSC8D8D3HFS
If you would like to donate via cash or check you can also mail in your donation to 249 N. Miller Rd or stop in and hand deliver your donations as well!
Day One! Enjoy!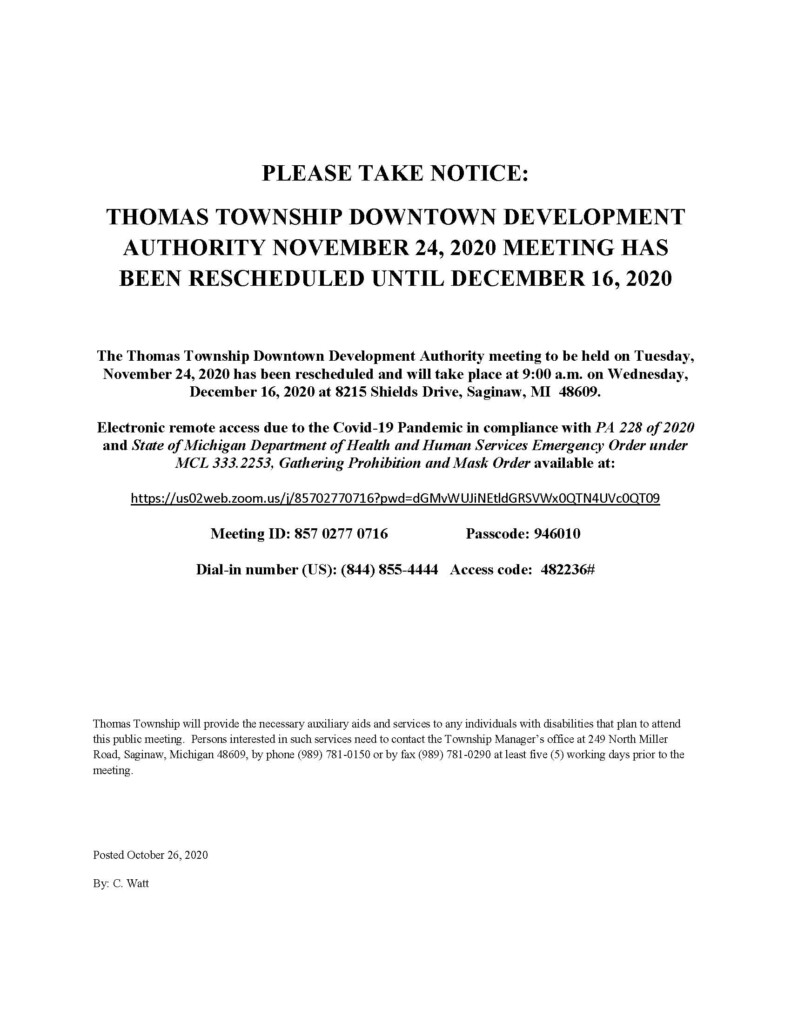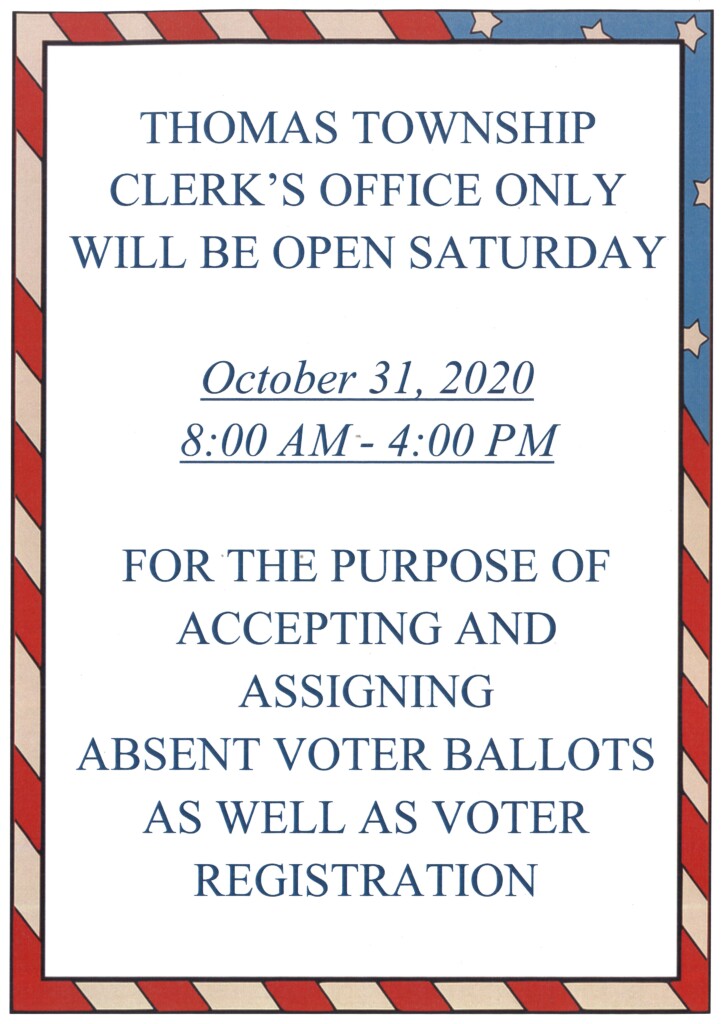 Early voting in Michigan is done by an absentee ballot. The name itself is misleading. A ballot can be obtained by completing an absentee ballot application and submitting it to the clerk's office via mail, email or in person. If you are planning on coming in person please call first as trainings and tabulator testing will pull staff from the office making them unavailable. Please be prepared with your driver's license if obtaining a ballot in person. The ballot will be handed to you to vote in your car or in the pleasure of your own home. Once the ballot is complete slip it back into the secrecy sleeve and slide both of those into the green and white envelope. Seal the envelope and sign the outside. Your vote cannot be counted without the signature so every attempt would be made to contact you if this happens. By law no ballots may be tabulated in our jurisdiction until the day of the election.
How do I receive an Absent Voter Ballot Application?
Applications are available online at https://www.michigan.gov/sos/0,4670,7-127-1633_8716_8728-21037–,00.html
I received an Absent Voter Ballot Application in the mail and I already filled one out in March or August. Do I need to fill this one out?
It depends on how you marked the form. If you marked both elections then you should have received a ballot already. If you have not received a ballot by now then an application was not received. An application would need to be completed and submitted before a ballot could be mailed.
I signed up to always receive absentee ballots so why am I receiving this application?
Voters have the option to be placed on a permanent absentee voter list. This does not mean that they are exempt from completing an absentee ballot application. By being placed on the permanent absentee ballot application list it allows the Township to automatically mail you an application for elections in that current year. The application must be completed and returned to the Clerk in order for the Clerk to verify the signatures and distribute the requested ballots.
Can I return my Absent Voter Ballot Application in the drop box at the Township Office?
Yes the applications can be returned via mail or by utilizing the drop box.
I will be away at school and would like my ballot mailed there. How do I do that?
There is a section near the middle where you can put the start date and end date that you will be at a different location and enter the address you would like the ballot mailed.
How do I know if I am registered to vote and how do I track my absentee ballot application?
Go to https://mvic.sos.state.mi.us/ to look up everything from what is on the ballot to whether you are registered to vote and where.

Our website now has a page dedicated to "Hometown Heroes", residents past and present who have had a banner purchased to honor them. These will be displayed along Gratiot Road on the streetlight poles. Along with their photographs is a small explanation by those who honored these individuals as to why they are their "Hometown Hero".
Please take a look here to see these honorees. Honored Hometown Heroes.
If you are interested in purchasing a banner for your "Hometown Hero" please click here.
Halloween and trick-or-treating is a nationally recognized day for children to dress up in costumes and go door to door to receive a treat and it is not sanctioned by the Township. The Township only announces the suggested trick-or-treating hours (5:30 – 7:30 pm) so that it keeps a sense of order with the increased amount of pedestrian traffic for that evening and the Township has no further involvement.
The Township has no legal authority or basis to cancel Halloween and trick-or-treating or to restrict the free movement of its residents. Participation in trick-or-treating is an individual parent decision, both by those who choose to allow their children to go door to door and those who choose to hand out candy.
All residents who participate, however, should adhere to any public health recommendations from the Saginaw County Health Department. Be safe and utilize common sense, such as, wear a mask and maintain social distancing if not in the same household.
Please be smart and be safe!
If you have not completed your 2020 Census, now is the time to do so!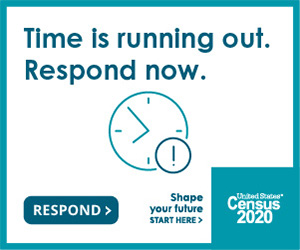 Click here now to complete the 2020 Census.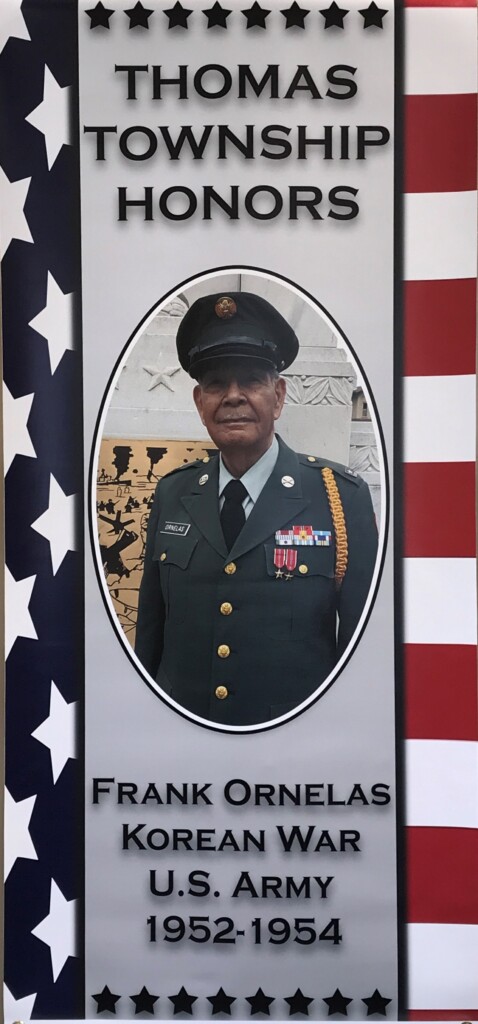 Thomas Township and the Downtown Development Authority have launched a new program to honor our "Hometown Heroes" For further information, please click here.
Thomas Township Offices are now open. Please note that new office hours are from 9:00 a.m. to 4:00 p.m Monday through Friday to allow for cleaning and sanitizing. Masks are required to enter the building and social distancing will be observed. Appointments are encouraged to avoid delays. Payments are encouraged to be made via the drop box, mail or online. We appreciate your patience.