Congratulations to the Emmendorfer family of Thomas Township who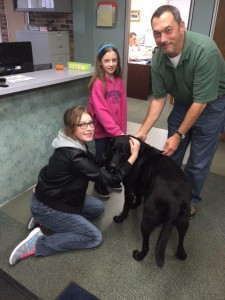 won dinner and movie passes from Gohm Insurance Restoration during their raffle at the Fire Department's 24th annual open house and pancake breakfast on September 27.
Sarah hugs Cooper, the Gohm mascot as dad Bernard and sister Michelle look on.
The members of the Fire Department want to thank everyone that helped make the event a huge success.
The Shields Drive Entrance to the Township Offices is currently closed. Please use the driveway off of N. Miller Road located in between the Township Office and the Fire Dept.
Thank you, and we apologize for any inconvenience.
Thomas Township's Current Featured Business is…
Oo-La-La Hair & Nail Salon
To find out more information about Oo-La-La Hair & Nail Salon, as well as services and products they offer, click here!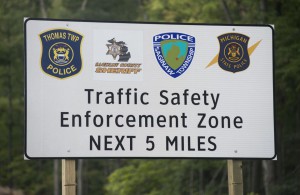 THOMAS TOWNSHIP, MI — A handful of police and highway officials gathered Tuesday, Aug. 25, on the side of Gratiot (M-46) to unveil plans they hope can make the road safer.
Serious accidents, including multiple fatalities over the past few years on a five-mile stretch of M-46, are prompting police to increase traffic enforcement there, Thomas Township Chief Steve Kocsis said.
"Beware. You will find police officers on this stretch of road every time you turn around," Kocsis said.
He was accompanied Tuesday by Sheriff William Federspiel, Saginaw Township Chief Don Pussehl Jr. and officials from the Michigan State Police and Michigan Department of Transportation.
They stood in front of a new sign installed on Gratiot, east of Thomas, reading, "Traffic Safety Enforcement Zone," featuring logos of the four police agencies part of the effort to bring more patrols to Gratiot.
There are four new enforcement zone signs on Gratiot between Thomas in Thomas Township and Center in Saginaw Township.
"We're looking for people distracted driving, in a hurry, running lights, and excessive speed," Kocsis said. "All of those different issues that play into crashes that create serious injuries or death."
Saginaw County's deadliest
Since 2011, there were 17 fatal crashes resulting in 21 fatalities along the 35-mile-long section of M-46 in Saginaw County, including areas outside the new enforcement zone.
The state-compiled statistics show the highway is, by far, the deadliest road in the county.
This year, four people were killed within the span of less than a week in two crashes on Gratiot less than half a mile from each other in Saginaw Township.
Related: Marci Barclay and Robert Gross III killed on Gratiot near St. Andrews
Related: Christopher and Mari Thompson killed at Midland and Gratiot
Pussehl said Tuesday that the goal of law enforcement is to work together to make the stretch the safest road in the state.
Gregg Brunner, associate engineer for operations in MDOT's Bay Region, said the agency strives for safety on roads throughout the state.
A study by engineers from outside of Michigan on a portion of M-46 in Saginaw County was published in August and highlights some items to address to improve safety in the future, Brunner said, as well as some things MDOT is already doing and will continue, such as improving road signage and doing road and bridge maintenance between Leddy Road and Kennely Road, just east of the news conference location.
MDOT in 2014 also changed the configuration of left turnaround lanes (or Michigan lefts) on M-46 in an effort to improve safety.
— Brad Devereaux is a public safety reporter for MLive/The Saginaw News. Follow him on Twitter, Facebook and Google+
Freeland Community Schools will be conducting a Bond Election on November 3, 2015.
Freeland Schools Bond Proposal
For Thomas Township voters who live in the Freeland School District, and vote in Precinct #1 at Fire Station #2, your polls will be open from 7:00 am-8:00 pm on November 3, 2015.  Applications for absentee voter ballots are available by calling the Clerk's office at (989) 781-0150 or by email at clerk@thomastwp.org.  If you are on the Permanent Absent Voter List, your application will automatically be sent to your address.
April 4, 11 & 18; May 2 & 16; June 13 & 27; July 11 & 25; Aug 8 & 22; Sept 12 & 26; Oct 3, 10, 17 & 24.
Brush may be taken by the homeowner to the Township brush drop off site located at the northwest corner of Gleaner and Frost Roads.  No stumps, leaves, grass or commercial brush will be accepted.  The site will be open from 8 a.m. to 12 p.m.