To report a potential code enforcement violation or for any questions regarding code enforcement, please contact the Code Enforcement Officer at 1-989-781-0150.
---
Our Mission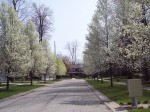 The primary responsibility of the Code Enforcement Department is the enforcement of the Township Code of Ordinances. Our primary responsibility is ensuring that all residential and commercial properties are in compliance with the Township's exterior property maintenance, nuisance, sign and all other Township codes. Our mission is to provide fair and unbiased service that ensures a safe and healthy environment for residents and members of the business community. We work with residents, neighborhood associations, public service agencies and other Township departments to accomplish this goal. Code Enforcement remains vigilant to maintaining the appearance of residential and commercial areas by correcting violations of municipal codes and land use requirements. Through the enforcement program, the Township maintains a quality of life that makes Thomas Township an excellent place to live and work.
---
Frequently Asked Code Enforcement Questions
How does Code Enforcement work?
The Code Enforcement Officer responds to complaints of potential violations relating to such issues as trash, grass, signage, nuisance issues, land use, dumping and other zoning issues just to name a few. Thomas Township is also a proactive community and patrols every street within Thomas Township on a bi-weekly basis for any potential code enforcement issues.
Upon receiving a complaint, the Code Enforcement Officer will conduct an inspection of the property, typically within twenty-four (24) hours of the complaint. If a violation exists, the Code Enforcement Officer will send a letter to the property owner explaining the nature of the violation, the section of the ordinance regulating the violation and a date in which the violation will need to be corrected.
Are there issues that Code Enforcement does not regulate?
Yes, there are some issues that cannot be resolved by the Code Enforcement Officer. Some examples would be property line disputes and tree branches hanging onto your property. The Code Enforcement Officer also cannot enforcement subdivision covenants or deed restrictions on properties. These types of issues should be handled through an attorney as a civil matter.
Questions or complaints regarding vehicles parked in the street, general noise complaints and barking dogs should be referred to the Thomas Township Police Department at 1-989-781-1300.
How do I register a complaint?
A resident can report a complaint by stopping by the main office at 249 North Miller Road, Saginaw, MI 48609, by calling the Code Enforcement Officer at 1-989-781-0150.
Do I have to leave my name in order to report a potential violation?
No. You do not have to leave your name, address or telephone number in order to report a potential violation.
What should I do if I receive a Notice of Violation letter and/or ticket?
Call the Code Enforcement Officer at 1-989-781-0150 as soon as possible to discuss the violation and what needs to be completed in order to bring the property into compliance. Additional time can be given if you are making progress on correcting the violation. Some violations may be determined as safety hazards and must be corrected within a timely manner. If you are unwilling to correct the violation or make contact with the Code Enforcement Officer regarding the violation, you may face fines and penalties.
---
Animals Commercial Vehicles Fences Garage Sales Grass and/or Weeds
Home Occupations Junk/Trash/Debris Sidewalks Temporary Signs
Unlicensed/Inoperable Vehicles Vehicles For Sale (Commercial Zoning Districts)