| | |
| --- | --- |
| What we do… | |
Public Works operates and maintains the community drinking water system delivering over 2,700,000 gallons of water a day to over 4,700 customers.
Public Works operates and maintains 14 sewage pumping stations conveying nearly 1,100,000 gallons of waste water per day for treatment and disposal.
Public Works operates the Owen's Cemetery located on North River Road.
Public Works maintains 12 other buildings and facilities located Township wide.
CURRENT / UPCOMING EVENTS
ODD DAY & EVEN DAY OUTDOOR WATERING RESTRICTIONS BEGIN
June 1, 2021 begins another outdoor watering season, and with it comes the annual odd day or even day watering schedule. It's easy to remember, if your address is even, you may water outdoors on even days, if your address is odd, you are allowed to water on odd days.
Fire Hydrant Repainting
One of our annual, seasonal maintenance projects is the repainting of fire hydrants. In the summer of 2019, all Township fire hydrants south of Gratiot Road were the target for that spring/summer project. All hydrants in this area were power washed, sandblasted, primed with gray paint, and then painted their customary red color. No hydrants were painted in 2020.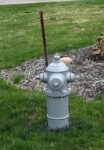 WEEKLY YARD WASTE PICK-UP WILL BEGIN AGAIN IN 2021.
BRUSH SITE DATES FOR

2021

:
Brush may be taken, by the homeowner, to the Township brush drop off site located at the northwest corner of Gleaner and Frost Roads. No stumps, leaves, grass or commercial brush will be accepted. The site will be open from 8 a.m. to 12 p.m. on the following dates:
April 3, 10, 17, 24
May 1, 8, 22
June 5, 19
July 10, 24
August 7, 21
September 11, 25
October 2, 9, 16, 23, 30
The brush site will occasionally be opened for storm-related damages if needed.
---

Click Here Water & Sewer Connection Information
Click

Here to view 2020 Drinking Water Quality Report
Click Here for Construction Updates

Click Here

for Frequently Asked Questions

Click Here

for Owen's Cemetery
Click Here for Veteran's Display Information
Click Here to contact us
Thomas Township Department of Public Works
Rick Hopper, Director
251 Miller Court
Saginaw, MI 48609
(989) 781-6438 (989) 781-0352 Fax
FOR AFTER HOURS EMERGENCIES – DPW CELL NUMBER – (989) 529-0041