| | |
| --- | --- |
| What we do… | |
Public Works operates and maintains the community drinking water system delivering over 2,700,000 gallons of water a day to over 4,700 customers.
Public Works operates and maintains 14 sewage pumping stations conveying nearly 1,100,000 gallons of waste water per day for treatment and disposal.
Public Works operates the Owen Cemetery located on North River Road.
Public Works maintains 12 other buildings and facilities located Township wide.
CURRENT EVENTS
Cross Connection Control Program Information
Thomas Township is required by Michigan State Law to eliminate possible contamination into the public water system due to the inadvertent and accidental introduction of chemicals and materials that are widely used in today's homes and businesses. This program, known as Cross Connection Control, is multifaceted and uses education, site inspections and water backflow device installation and testing as its cornerstones. Many causes of drinking water contamination are traced to cross connections between a water system and another non-potable water source. A good example is a connection between your home and an auxiliary water system, (like a well); fire connections, water powered sump pumps, an underground pool fill system or an irrigation and lawn sprinkler system. Backflow prevention devices prevent the possibility of water backflow or back-shiphonage into the public system should there be a large water demand such as a water main break or an emergency condition requiring large volumes of water, like a fire. Backflow prevention devices are mechanical in nature and require periodic testing to make sure that they will protect your home or business when needed. Devices must be tested every three years and Thomas Township will notify you when your device needs to be tested by mail.
No Backflow Device Certification Form 553: NoBackflowDevice
Certificate of Abandonment Sprinkler System Form
ODD DAY & EVEN DAY OUTDOOR WATERING RESTRICTIONS BEGIN
June 1, 2019 begins another outdoor watering season, and with it comes the annual odd day or even day watering schedule. It's easy to remember, if your address is even, you may water outdoors on even days, if your address is odd, you are allowed to water on odd days.
Fire Hydrant Repainting
One of our annual, seasonal maintenance projects is the repainting of fire hydrants. This year, all Township fire hydrants south of Gratiot Road are the target for this spring/summer project. All hydrants in this area will be power washed, sandblasted, primed with gray paint, and then painted their customary red color.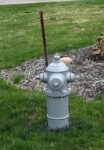 YARD WASTE PICK-UP WILL BEGIN APRIL 6, 2019 AND RUNS THROUGH

October 26, 201

9.
BRUSH SITE DATES FOR

2019
Brush may be taken, by the homeowner, to the Township brush drop off site located at the northwest corner of Gleaner and Frost Roads. No stumps, leaves, grass or commercial brush will be accepted. The site will be open from 8 a.m. to 12 p.m. on the following dates:
April 6, 13, 20, 27
May 4, 18
June 1, 15, 29
July 13, 27
August 10, 24
September 7, 21
October 5, 12, 19, 26
---

Click Here Water & Sewer Connection Information
Click

Here to view 2018 Drinking Water Quality Report
Click Here for Construction Updates

Click Here

for Frequently Asked Questions

Click Here

for Owen Cemetery
Click Here for Veteran's Display Information
Click Here to contact us
Thomas Township Department of Public Works
Rick Hopper, Director
251 Miller Court
Saginaw, MI 48609
(989) 781-6438 (989) 781-0352 Fax
FOR AFTER HOURS EMERGENCIES – DPW CELL NUMBER – (989) 529-0041