Hours Of Operation: Monday-Sunday (including holidays)
8 AM to Dusk – gate closes at dusk each day
2385 North River Rd. Saginaw, MI 48609
2022 Cemetery Fees
| | |
| --- | --- |
| Lot (Single Grave) – Resident | $550.00 |
| Columbarium Niche – Row A or B | $500.00 |
| Columbarium Niche – Row C or D | $475.00 |
| Past Resident Grave or Niche Purchase | 150% of cost |
| Gravesite or Niche Transfer Fee | $75.00 |
| Rights of Burial Buy-Back | Contact DPW |
| | |
| --- | --- |
| Full Body Burial Monday thru Friday | $625.00 |
| Full Body Burial Holiday & Weekend | $725.00 |
| Cremains Inurnment Monday thru Friday | $250.00 |
| Cremains Inurnment Holiday & Weekend | $350.00 |
| Foundations – Resident | $.50/Sq Inch |
| Foundations – Past Resident | $.75/Sq Inch |
Quick Field Guide to Monument Types
Recent Cemetery Improvements
In the summer of 2020, all the roads in Owens Cemetery were repaved with asphalt. This allows for visitor ease while navigating the Cemetery and for winter plowing by the DPW staff.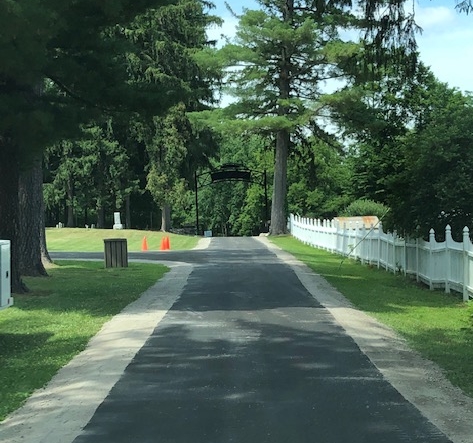 In the summer of 2019, a black wrought-iron entrance sign was erected and is consistent with other entrance signs to Thomas Township attractions.
The angel statue located in the family plot of Thomas Owen, placed in the family plot during an unknown year, underwent a restoration process by DPW employees in the summer of 2020 as its cinderblock base was crumbling. Rick Hopper put the finishing bronzed touch on the statue restoration and also the nearby urn ensuring that the statue will continue to watch over the inhabitants of this beautiful, peaceful Cemetery for many years to come.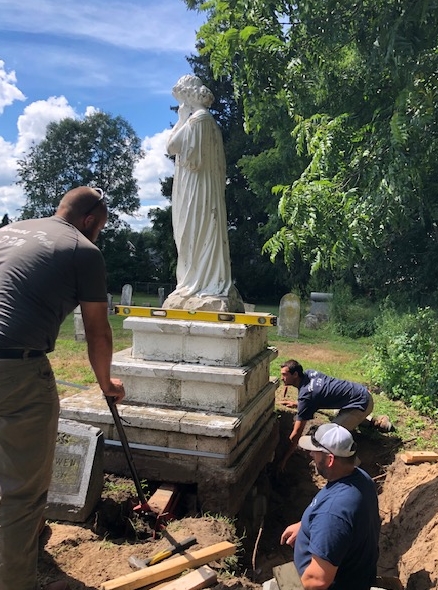 Today, cremation is the preferred means of "above-ground burial." Recognizing this, Rick Hopper, DPW's Director, designed a columbarium for the interment of urns. It was erected in 2015 and Niches are available for purchase.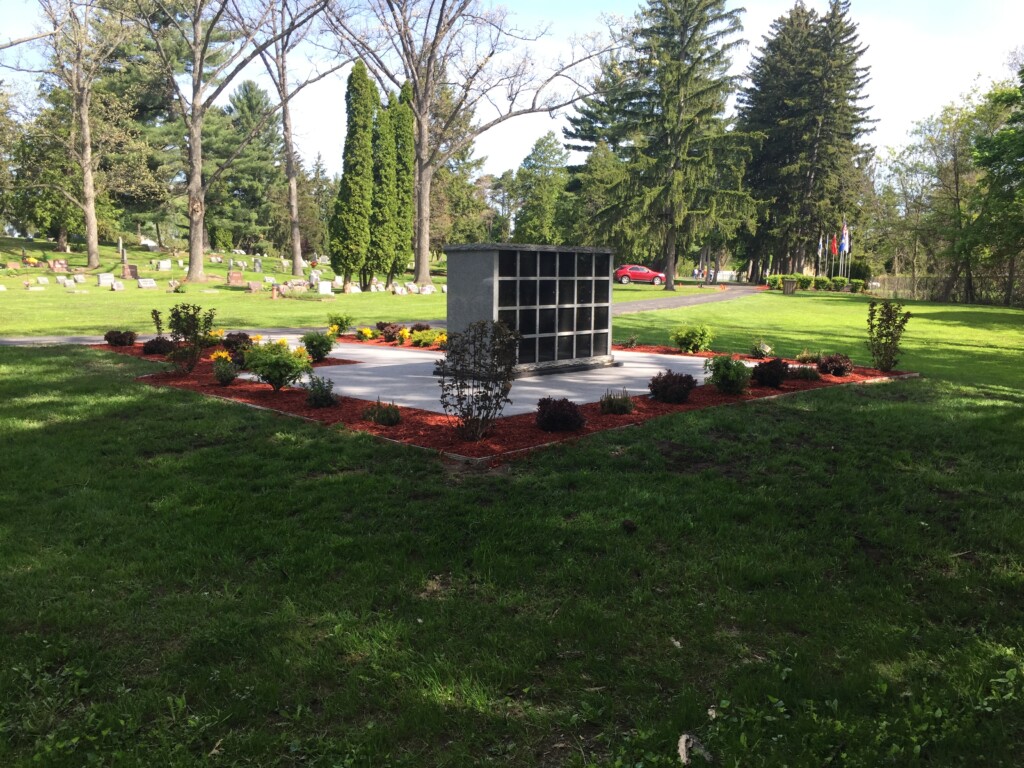 In 2009, a Veteran's Memorial Display developed by Thomas Township. It was built with volunteer labor by local veterans and displays service flags to honor each branch of the military, ensuring all veterans are recognized. Veterans can be buried in any section of the Cemetery or their ashes interred in the Columbarium. Owens Cemetery does not have an established Veterans Section. Volunteers place flags on each veteran's burial plot for Memorial and Veterans Day. Not all of Owens Cemetery's veterans have a military tombstone. Extensive research has been done to make sure all veterans buried here are recognized with a US flag. Flags are also available in the container.