The 2020 Trash & Treasures Rummage Sales will run Thursday, July 16th through Sunday, July 19th, 2020!
The event "Trash & Treasures Garage Sale and Rummage Event" is back again this year. This community-wide effort has been very successful thus far in attracting "shoppers" to the area for the numerous resident/business sales.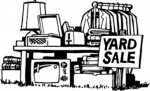 Participation in the event is very simple. You can fill out an application (which will also appear in the Township newsletter), e-mail at operator@thomastwp.org or visit the township office in person at 249 N. Miller Rd. between 8 a.m. and 5 p.m. Monday through Friday. Once registration is received, your sale will be included on a free map provided by Thomas Township. This map is available on-line at www.thomastwp.org the week of the event and will also be in The Saginaw Township View newspapers that same week. We cannot include specifics of your sales-as to times, what you are selling, etc., due to limited spacing.
PLEASE KEEP IN MIND… This is a community-wide event. Let's keep a community spirit. Please be considerate of your neighbors and provide parking at your home for shoppers. Consider asking if your neighbors would like to have their property staked off to avoid foot traffic. Let's make this enjoyable for all.
REMEMBER… Trash Collection is on Friday in Thomas Township. Please make sure collection vehicles have access to receptacles at your home and your neighbors home.
PLEASE allow for access to mailboxes.
A donation truck was provided by the Oldtown Christian Outreach Center and was located at the Thomas Township Public Safety Building. When donating items, PLEASE try to fit the items INSIDE the truck as best as possible. In the past years we have had far to much overflow into the parking lot when there was room in the truck!