Michigan House of Representatives 94th District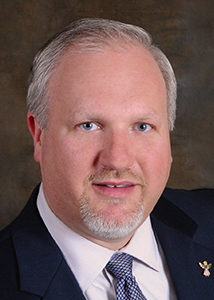 DISTRICT

State Rep. Rodney Wakeman was first elected to serve the 94th District in the Michigan House of Representatives in November 2018. The 94th District encompasses part of Saginaw County, including the city of Frankenmuth and the townships of Blumfield, Frankenmuth, Albee, Taymouth, Birch Run, St. Charles, Swan Creek, Thomas, Saginaw and Tittabawassee.
EDUCATION

Rodney is a 1988 graduate of Wayne State University School of Mortuary Science and is Detroit Board-certified by the International Conference of Funeral Service Examining Boards.
PROFESSIONAL

Wakeman is co-owner of Wakeman Funeral Home, a 107-year-old family business.
PUBLIC OFFICES AND AFFILIATIONS

Rodney was appointed in 2011 and 2015 by Governor Snyder to the State Licensing Board of Examiners in Mortuary Science and served as chair from 2015 to 2018. Rodney is also president of the Michigan Funeral Directors Association and has served on the leadership board in various capacities for 25 years. He is a member of Wayne State University School of Mortuary Science Advisory Committee, president of Valley Lutheran High School Foundation, former chairman VLHS Alumni Association Scholarship Committee and a former member of LEAP Implementation Team to advance Lutheran education.
CONTACT INFO
LANSING OFFICE
Anderson House Office Bldg.
124 N. Capitol
N-1198 House Office Building
Lansing, MI 48933

Located on the corner of Ottawa and Capitol Avenue, across the street from the State Capitol.

MAILING ADDRESS:
N-1198 House Office Building
P.O. Box 30014
Lansing, MI 48909 Phone: (517) 373-0837
FAX: (517) 373-3589
Ken Horn is our Senator for the 32nd Senate District, which encompasses all of Thomas Township.
Ken Horn has lived in Saginaw County for over 30 years. He currently lives in Frankenmuth with his wife Veronica. They have two children, Kevin and Andrea. Kevin and his wife Ruth also live in Frankenmuth and have Blessed "Oma & Opa" with two beautiful grandchildren; Liam, living with them, and their angel Zellie, who is terribly missed.
Ken graduated from Concordia University with a Bachelor of Arts Degree in Criminal Justice. Ken was a small business owner for nearly 15 years, owning and operating Horn's Restaurant in Frankenmuth. In addition, he has served as a substitute teacher in Bridgeport and Frankenmuth schools. In 2004, Ken accepted the position of Vice President of Donor Services at the Saginaw Community Foundation where he managed over 300 funds and oversaw nearly $1.2 million in grant programs that helped to improve Saginaw County.
Ken was a Saginaw County Commissioner for 14 years, representing Birch Run, Bridgeport and Frankenmuth Townships and the city of Frankenmuth. He served as chairman of the Legislative Sub-Committee and also served on Courts & Public Safety, Community Corrections Advisory Board, County Services, Budget/Audit Appropriations, Saginaw County Airport Commission and the Saginaw County Event Center Board.
In 2006, Ken was elected to serve the 94th District in the Michigan House of Representatives. From 2007 to 2012 he represented the cities of Birch Run, Chesaning, Frankenmuth and St. Charles in addition to 12 townships in Saginaw County. Ken served as chairman of the House Energy & Technology Committee.
The 32nd District elected Ken to the Michigan Senate in 2014. He represents all of Saginaw County and the western portion of Genesee County. Ken chairs the Senate Economic Development and International Investment Committee and serves as vice chair of the Senate Transportation Committee. He has also been appointed to the Senate Energy & Technology, Insurance and Veterans, Military & Homeland Security Committees.
Ken has been an activist and leader in Saginaw County for decades through his volunteer work with area organizations including Frankenmuth Rotary International, Saginaw Art Museum, Habitat for Humanity, Saginaw Field and Stream, Frankenmuth Conservation Club and many local chambers of commerce. In addition, Ken completed Michigan State University's Political Leadership Program, Leadership Saginaw County, the Saginaw County Vision 2020 One Thousand Leaders Initiative, and received a fellowship from the Council of State Governments to the Bowhay Institute for Legislative Leadership Development.
You can reach Senator Horn in the following ways:
Lansing Office: :
Room 7200 Binsfield Building
201 Townsend St, Lansing, MI 48933
Mailing Address:
Senator Ken Horn
PO Box 30036
Lansing, MI 48909
Saginaw Office:
5410 State St
Saginaw, MI 48603
Phone:
(517) 373-1760
Toll Free:
(855) 347-8032
Fax:
(517) 373-3487
Website:
Senator Ken Horn
Email:
senkhorn@senate.michigan.gov
Please include name, address, and phone number.