The Thomas Township "Shields Summer Festival" takes place each summer at the club-owned property at 605 South Miller Road.
The dates for the 2015 festival will be Thursday, June 25th through Sunday, June 28th.  Activities anticipated at the 2015 festival will include  live entertainment, beer tent, food, millionaire party, bingo and much more with games and amusement rides.
Throughout the Thomas Township area other events taking place as part of the festival include softball tournaments and the township-wide "Trash & Treasures" garage and rummage sales (which had over 170 participants both residential and business in 2014) as well as the  Thomas Township Trailblazer 5K Run/Walk. For information on the "Trash & Treasures" sale or any festival events you can contact the Thomas Township office at (989) 781-0150, email to operator@thomastwp.org.
On the Saturday of the festival, the Lions Club sponsor a parade at 11 a.m. that makes its way down Gratiot Road.  Area businesses and organizations participate in the themed event to make it one of the largest in the area.  To view the parade, make sure you set-up on the south side of Gratiot because the parade will run down the two southernmost lanes.
For additional festival information, please contact Don Emeott at (989) 781-1305.   If you are interested in participating in the parade or want more details about it, please contact Wayne Engel at (989) 642-8162.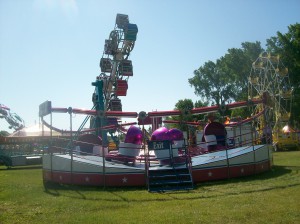 2011 Lions Parade Photos                               2012 Lions Parade Photos