Meet Your Neighbor
From the October 2012 Thomas Township Newsletter
I bring you the second installment of "Meet Your Neighbor" meet Mr. Gerald Kluck. I originally sat down with Gerald back in August of 2012 to get his story, however, being the humble man that he was, all he wanted to do was talk about others. Now, in hindsight, and with his passing, I have changed this story to give you a little more insight into Gerald and who he really was.
There are not many individuals you meet in your lifetime as genuine as Gerald Kluck. I feel so blessed to have known him and so fortunate to have been able to sit down with him to do this interview before his recent passing. For those of you who knew him, he had a heart bigger than life itself and a passion for helping others.
Thomas Township Supervisor, Bob Weise stated, "Gerald was a very kind and gentle person. I really enjoyed his positive attitude."
Gerald was a humble man who was so actively involved in both church and community, from serving on his local government, local school board or serving on the planning committee for the Good Friday services at his church for twenty years. He was a selfless individual who was never afraid to give of himself and ask nothing in return. Most of us are aware of the nursery he ran for so many years, where he was often selling gift certificates out of his home during the Christmas holiday, but many may not know Gerald, the father of three, married to Sally for 60 years, who lived his life by the Christian principles he believed in.
Township Treasurer Vern Weber fondly remembers Jerry, someone he called his Christian brother, "Jerry Kluck was one of the finest gentlemen I haveever known. And I mean just that, he was a gentle man. If life truly is in the power of the tongue, Jerry not only spoke it but he lived it. He was a kind and generous man always looking to care for those around him. Each time I saw him he had a sparkle in his eye and a smile on his face that touched so many lives. I admired Jerry's life; he loved his immediate and extended family, was a hard worker, and was a pillar in the community. It was a life anyone would strive to mirror. I will dearly miss Jerry's presence and strong influence in my life. Memories of him and his friendship will be treasured. It was truly an honor to know and love Jerry Kluck."
The Kluck family was one of the earliest families to settle in Thomas Township. The family originally came to Thomas Township back in 1907 when Walter and Frieda Kluck decided to put roots down and begin farming. Five generations later, the family remains.
Gerald Kluck was a former member of both the Thomas Township Board of Trustees and Swan Valley School Board, as well as previous director of both the Michigan Nursery and Landscape Association and Michigan Christmas Tree Growers Association. He was known for his generous nature, tireless volunteering and supporting many causes such as "Trees for Troops" and "Habitat for Humanity".
Gerald told me he was thankful that his parents decided to make Thomas Township their home. It could have been anywhere, but it was here in this wonderful Township with its small town appeal. A place where quite by accident, Walter Kluck began what would become an annual tradition that has spanned many years.
What began as a pine tree wind break started by Gerald's father and brother back in the late 1920's to keep the sand from blowing on the alfalfa, blossomed into a one of Thomas Township's Christmas destinations for generations of families; The Kluck Farm "Cut Your Own" Christmas tree farm. Over the years, Gerald never lost sight of his father Walters business insight admiring his unbelievable business sense and remembering that his father took pride in the family business wanting to insure that the first impression anyone got of the nursery was one of a business that was run in a superior manner with every regard to the quality of the plants, appearance of the nursery and exemplary employees, some of which started with the nursery while still in high school and continue to this day.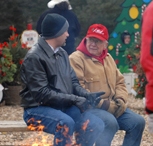 Tom Radewahn, Township Trustee and owner of Mid Valley Insurance & Financial summed up his feelings about Gerald Kluck "They speak of pillars in a community. Jerry is a true example of that term. Thomas Township was weaned on the business operations of Kluck's Nursery and over the years Jerry volunteered and served his community in every way. He was a neighbor, a good business man, a community servant and a good friend. He will be sorely missed."
Gerald was thankful everyday for the beginning Walter and Frieda gave him in Thomas Township. A place as he said has remained because it is a great place to raise a family with its farm land and great places to build or start a business. He was grateful for the hidden jewels (his words) that we have here in Roberts Park and Roethke Park. He was proud of the community moving forward and welcoming industry (HSC) and a new technological vision which he attributed to the great leadership and involved residents here in Thomas Township.
The operation of the nursery is now in the hands of Gerald's son Tom and his family. They will continue stressing the Christian principals that it was built on. Gerald and the entire Kluck family have become an integral part of Thomas Township. From being one of the earliest families and businesses to help take part in shaping what we have become and what we will be in the future.
Connie Watt
Community Development Department