Assistant Fire Chief Lyle Cousins, right, was honored on his retirement by the Thomas Township Board for his 50 years of service to the township.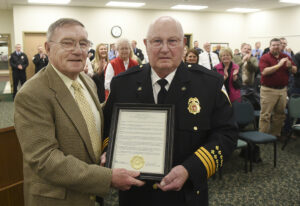 Supervisor Bob Weise, left, presented a proclamation to Lyle at the February 4 Board meeting. In addition to his family he was also honored by members of the fire department.
During his 50 years Lyle served as a firefighter, Lieutenant, Captain, Assistant Chief and Interim Fire Chief. In addition he was the departments Training Officer for many years.
Lyle served as President of the Saginaw County Firefighters Association and was a State Certified Fire Instructor.
I part the resolution read "The Thomas Township Board of Trustees, along with the Township Manager and Fire Chief, do hereby express their deepest appreciation to Mr. Lyle Cousins for the past 50 years of active, dedicated service rendered to Thomas Township and its residents."